Back to Blogs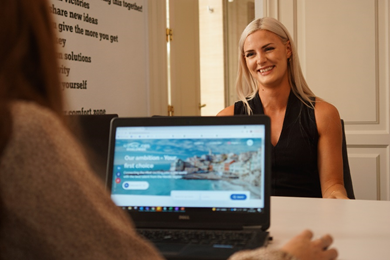 10 Most Common Interview Questions
​​10 most common questions and how to answer then!
Listed below, you find the 10 most common questions, and a small guideline how you can answer them!
​
1. Tell me about yourself
2. What is your greatest strength?
3. What is your greatest weakness?
4. Why should we hire you?
5. What's something positive your boss would say about you?
6. What are your salary expectations?
7. Why are you leaving your current role?
8. What interests you about this position?
9. What are your future goals?
10. Describe a difficult work situation and how you overcame it
Be prepared,
What you need to have in mind when you meet up for an interview, is that the company expects that you know about them. Who are they, what are their product/service – what values do they have and why would you be a good fit for the position which you are applying for.
Best tip, is to do some research beforehand, and let them know in between the lines( by for example comment on their company values) that you have done your background check. This shows and overall and general interest in the job and the company.
Be positive and openminded,
Come up with some examples in previous job positions where you were solution oriented and had a positive approach to a challenge or difficult situation which you turned into a positive thing.
Listen and show interest in what is being told and try not to interrupt the interviewer even though you are super motivated to speak and show that you are very motivated for the position.
Motivation for the job,
The company wants to know, if you are a trustworthy candidate who wish to build up a career, in their company. You need to convince them, that you are ready to take the next step in your career to become a part of their growing organization with you as an employee. They will ask you questions like ''what are your future goals and why are you leaving your current role'' Be prepared with a good answer, who makes them feel comfortable in hiring you.
Meet up in time, be presentable, prepared, and ready for the interview with positive energy – no matter who you speak to in the organization.
Would you like to have our support on how to be prepared in the best way for an interview, feel free to contact us at any time so we can guide you through the process!
​